In RMG-Redes we offer all types of networks for soccer fields. We specialize in the manufacture and installation of custom-made sports nets, such as goalkeeper netting, perimeter netting for football pitches such as inter-field netting.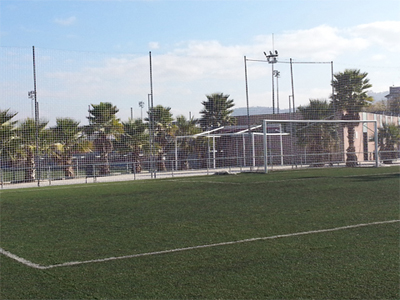 After years of experience working with large professional football clubs, we equip our customers with the best sports networks in terms of value for money on the market. We have been manufacturing nets for sports facilities since the 1990s, at which time we expanded our services, almost a hundred years ago, from the manufacture of fishing nets to other sports disciplines.


The most common synthetic fibers in football fields 11, 7 football and futsal are polyamide or nylon nets, since they are the ones that offer greater tenacity and resistance. These are 3mm thick synthetic nets available in various colors (white, green or black). And for the most demanding customers, we also have nets of 100% nylon of greater thickness (4.5 mm) in white color. We can make sports networks with official or custom measures, on demand of the client.

All our football nets have a perimeter rope frame for an ideal attachment to poles, cables and other fastening elements. In addition, for the installation of networks for football fields we work with all necessary accessories such as hardware and steel parts.
Uses of our football nets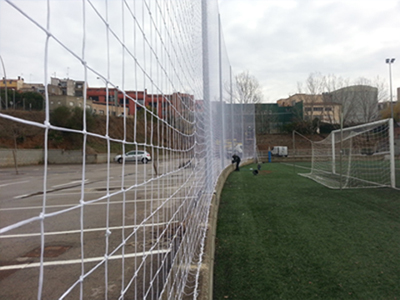 Our synthetic nets are used in all types of football fields such as football 11, 7 (minifutbol) or 5 (futsal), either for goalposts or to separate tracks within the same sports complex
(sports perimeter nets)
. We offer our customers ropes, meshes and networks of maximum professionalism and resistance.
We also have
safety nets in sports facilities
such as those used on soccer fields to protect attendees from potential ball games.
For more information on football networks, you can consult our catalog. Do not hesitate to contact us to request a quotation without commitment.