Protective nets for houses
At RMG-Redes we provide you with mesh and protective nets for your home. We secure and cover balustrades, balconies, windows and swimming pools. All our nets and meshes are made of high quality materials, very strong and strong. In addition, we make the nets to measure, to adapt to your needs, and we have a service of installation of safety nets in the domestic sphere.
Nets for balustrades, balconies and windows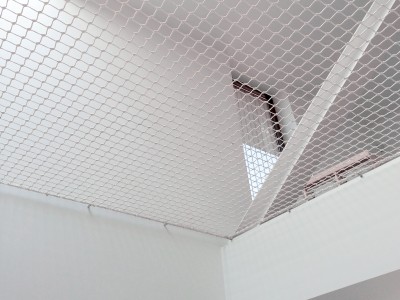 We put at your disposal these protective meshes for balconies, terraces and windows so that the security in your home is guaranteed. These safety nets are designed primarily for the safety of children and pets and to avoid damage caused by falling or throwing objects.

We make nets and meshes to cover balconies and windows to prevent the fall of people, pets and objects. We also have nets to cover the stairs of your home. These nets are sturdy and have great durability.

In our company we are dedicated to creating safety nets for the closure of balconies, terraces and windows. We also take care of the installation.
Swimming pool safety nets
If there are children and / or pets in your house with swimming pool, it can be a concern to think that they can fall into the water. On the other hand, keeping the pool clean and without debris from leaves or debris is a necessary and at the same time a heavy task to carry out. To make your work easier, in our factories we make safety nets for swimming pools, which prevent people and / or pets from falling into the water. We also manufacture and install mesh to prevent the fall of leaves and other elements that soil the water.


If you need some type of home protection net, do not hesitate to consult us and we will make a personalized quote without any commitment