The professionals of RMG-Redes are specialized in the manufacture and installation of nets for multi-sports goalposts. To carry more than 30 years in the sector of the manufacture and installation of sports nets gives us a great experience, much appreciated by our customers.
There are as many
goal nets
as sports with them. Thus, in RMG-Redes we make your goal nets to measure, according to your needs. Since each sport uses its official measures, RMG-Networks differentiate nets from:
Soccer goal net
Handball nets
Water polo nets
Basketball Nets
Characteristics of goal nets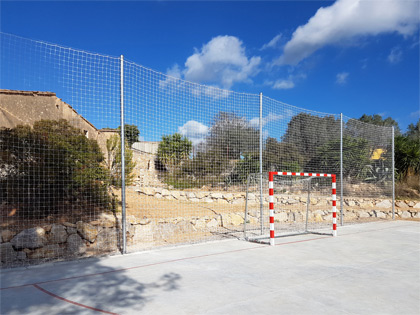 Goal netting
can be located outdoors, so the materials used to manufacture it are very durable and durable to allow a long life in the face of sudden changes in temperature and humidity that they must endure daily. The
material
we use to manufacture our nets is
100% polyamide or nylon
, precisely because of its high resistance and toughness against impacts and inclemencies.
Goalposts for professionals are made using standard measures according to the regulations of each sport. However, in RMG-Redes we can customize the designs and colors of sports nets and even make
customized nets
at the request of our customers.
Find out more about the designs available in our catalog and do not hesitate to contact us to ask for your budget without commitment.